Ignacio L. Garzón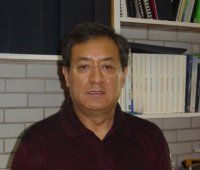 Departamento de Sistemas Complejos
Instituto de Física
Universidad Nacional Autónoma de México (UNAM)
Apartado Postal 20-364
01000 México D. F.
México
Phone: &nbsp&nbsp&nbsp&nbsp&nbsp&nbsp&nbsp&nbsp ++52 (55) 5622 5147
Secretary: &nbsp&nbsp&nbsp ++52 (55) 5622 5020
Fax: &nbsp&nbsp&nbsp&nbsp&nbsp&nbsp&nbsp&nbsp&nbsp&nbsp&nbsp&nbsp&nbsp ++52 (55) 5622 5015
E-mail: &nbsp&nbsp&nbsp&nbsp&nbsp&nbsp&nbsp&nbsp garzon@fisica.unam.mx
---
Recent Publications
My last publications
"On the origin of the optical activity displayed by chiral-ligand-protected metallic nanoclusters"

Ariadna Sánchez-Castillo, Cecilia Noguez and Ignacio L. Garzón
J. Am. Chem. Soc., 132 (5), pp 1504–1505, (2010)
"Vibrational circular dichroism and IR adsorption spectra of amino acids: A density functional study "
Zhi Ji, Rubén Santamaría, and Ignacio. L. Garzón
J. Phys. Chem. A. (2010).
"Optically active metal nanoparticles"
C. Noguez, and I. L. Garzón
Chemical Society Reviews 38, 757 (2009).
"First-Principles Calculations of Circular Dichroism of Ligand-Protected Gold Nanoparticles"
F. Hidalgo, A. Sánchez-Castillo,C. Noguez, and I. L. Garzón
European Physical Journal D 52, 179 (2009).
Copyright © 2009 Ignacio L. Garzón All Rights Reserved.
Last Update: February 9, 2009 | Arzate Mary Carmen | Contact