Oaxaca, Mexico: Geographical Location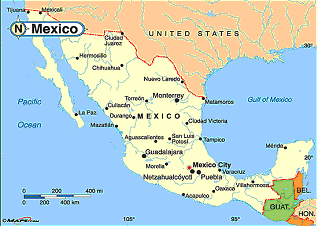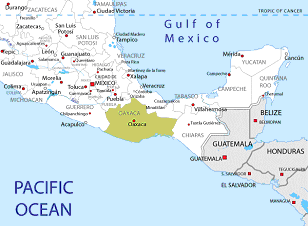 Air transportation to Oaxaca (OAX) is available through a 50 minutes connecting flight from Mexico City (MEX). Alternatively, there is a 2:30 hrs direct (non-stop) flight from the Houston Intercontinental Airport (IAH).
Direct (non-stop) flights to Mexico City (MEX) are available from Madrid, Barcelona, Paris, London, Frankfurt, Amsterdam, Rome, Tokyo, Shanghai, Sao Paulo, Buenos Aires, Santiago, Bogota and all major cities in Canada, USA and the Caribbean.
MEX-OAX-MEX flights can be reserved through Aeromexico (4 flights daily). The IAH-OAX-IAH flight is provided by Continental Airlines .
Information on the Oaxaca International Airport is available here. To get into the Oaxaca historic centre hotels use the private or collective taxi service at the Oaxaca International Airport (20 minutes ride).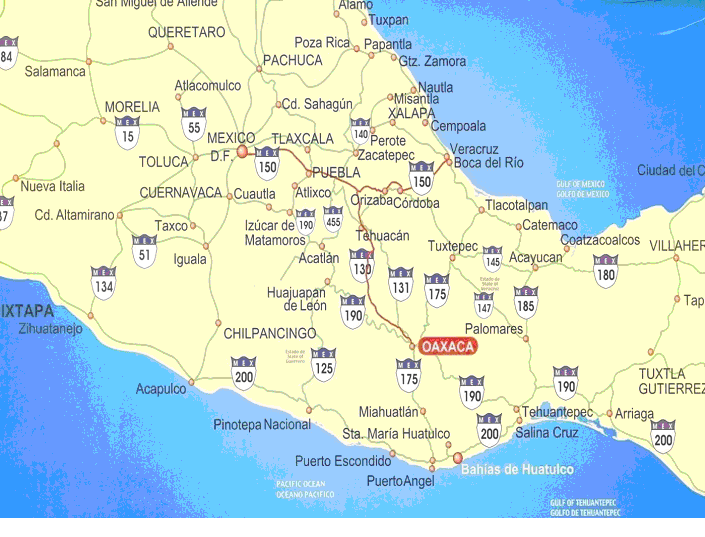 For land transportation between Mexico City and Oaxaca City use toll highways 150D (to Puebla) and continue with 190D (to Oaxaca). Driving time is 5 hrs.
Bus transportation to Oaxaca City (6 hrs) is provided by ADO Bus Lines from the TAPO Bus Terminal at Mexico City. TAPO Bus Terminal can be reached from the Mexico City Benito Juarez International Airport by Taxi in ~ 20 minutes.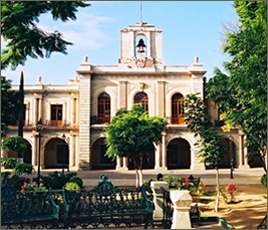 Oaxaca City is located in Mexico's southern region in the middle of a zone surrounded by four valleys. Behind the valleys lie three important mountain ranges, which keep the climate mild with an average temperature of 18º C (64º F).
In this city, the capital of the state of Oaxaca, you can admire the beautiful architecture of the buildings in the Centro Historico (Historic Center), which was declared a World Heritage Site by the UNESCO. The edifices include la Catedral (The Cathedral), el Templo y Ex-Convento de Santo Domingo de Guzmán (The Temple and Ex-Convent of Santo Domingo de Guzman), la Basílica de la Soledad (The Basilica of Solitude) and el Teatro Macedonio Alcalá (The Macedonio Alcala Theater), among other magnificent colonial and 19th-century constructions.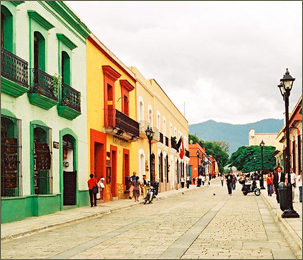 As you visit the main plaza, the numerous establishments which surround the Historic Center, and the traditional markets, such as Benito Juárez and 20 de Noviembre, you'll find all kinds of crafts that come from various regions of Oaxaca. Among the most popular crafts are the colorful alebrijes, swords, wool garments and beautiful black pottery. At some of the more traditional places you can try the delicious local fare, such as tamales, mole dishes and Oaxacan cheese. Another favorite is Oaxaca's famous mezcal, a regional alcoholic beverage made from the maguey plant.
In the city's surrounding areas, you can visit archaeological zones Monte Albán and Mitla, pre-Hispanic capitals of the Zapotec and Mixtec people. If you visit the town of Santa María de Tule, you can marvel at the famous Árbol del Tule (Tule Tree). What's more, the magnificent natural scenery at Parque Nacional Benito Juárez and the spectacular petrified waterfalls at "Hierve el Agua" are certain to impress you. All of these places are relatively close to Oaxaca City, one of Mexico's most charming cities.
Source: Visit Mexico